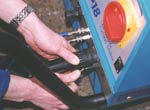 We started the development of our first plasma cutting system in 1978. The prototype was installed in a plate profiling facility in 1980 an development continued, production and sales commencing in 1982.
We pioneered the concept of a totally air plasma solution, eliminating the need for gases, and by incorporating an air compressor, providing a solution that only needed an electricity supply.
Our first unit was the P20(20kW) and over the years that has been extended to a range that has covered 3kW to 50kW. We now manufacture in the 30kW to 50kW range, and offer SPT machines from 5kW upwards.
In the design and construction of our products we endeavour to build on these inherent process advantages.  We offer you rugged reliable units of high quality construction proven in many arduous working environments, to ensure that the benefits continue year after year.  We offer the convenience and portability of compact self contained power units with integral compressors, giving simple operation and requiring only an electrical power supply.  We back this up with a three year warranty on all our water-cooled machines, and two years on SPT machines.
We can advise you on your application, and provide a total solution to your metal cutting requirements that will offer the productivity, quality and payback that you need, for as long as the requirement exists, with backing of a company that is totally committed to air plasma.